Completed! A little late, but oh well. I was all pumped to knock it out December 1, and then so many things got in the way. Better late than never, I guess. I'll have to do better on my other challenges.
This was my first challenge, and I have to say that it was a successful one and a great one to introduce me to the challenge world. I thoroughly enjoyed every single book I picked for this challenge. I definitely would like to participate again in the future.
To see all of the reviews for this challenge,
click here
. Or, you can click on them individually as listed below.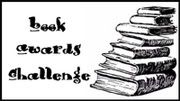 Read the post
here
.
Ended: December 1, 2009.
1.
How I Live Now by Meg Rosoff
(Printz Award) -
11.15.09
2.
The Blue Sword by Robin McKinley
(Newberry Medal) -
7.26.09
3.
The Hours by Michael Cunningham
(Pulitzer Prize) -
11.29.09
4.
Gilead by Marilynne Robinson
(Faulkner Award)-
12.7.09
5.
The Blind Assassin by Margaret Atwood
(Booker Prize) -
11.27.09